Most Venerable Mitirigala Dhammanissanti Thero (formerly known as Asoka Weeraratne) was the founding father of Mitirigala Nissarana Vanaya.
Prior to establishing the hermitage, he had achieved the remarkable feat of leading and establishing the first Sri Lankan Buddhist mission in Germany on a permanent footing; establishing the Berlin Buddhist Vihara (Das Buddhistische Haus), the first Theravada Buddhist Vihara in Europe in Berlin–Frohnau on behalf of the Trustees of the German Dharmaduta Society.
Asoka Weeraratna was born in Galle as the youngest son of Mr and Mrs P.J. Weeraratna, the owners of a reputed jewellery establishment.  As a child, Asoka possessed special qualities, vehemently rejecting any pursuit of comfort and wealth, instead, nestling in abstinence and moral restraint.  He was endowed with an extraordinary vision, an aptitude for critical reflection and search, particularly on the meaning and purpose of life and boundless energy, always maintaining the five precepts and approaching life with great compassion and loving kindness.  He was a strict vegetarian.  His character, even in his youth, exuded dynamism and a show of exemplary determination.
Asoka valued ideas that help to build one's character and saw in abstinence and self–sacrifice, a moral basis for self–development. The Buddhist tenets of reverence for life of all living things and compassion for animals were well grounded in him. The austere life he led without any form of indulgence had a great influence on those who were close to him; some of them, in admiration, saw in Asoka, a role model for their own personal development and a frugal way of life.
At the age of fifty three years, he gave up worldly possessions to progress on his inward journey towards liberation.  Two obstacles stood in his way.  First, he had to find a suitable place for the practice.  Secondly, he had to find a suitable teacher.  He travelled the whole country for a period of about six months in search of a suitable dwelling place for the practice, often without food or sleep.
In 1964, at the official premises of the Society, in a rare and auspicious moment, Asoka Weeraratna had his first encounter with one of Sri Lanka's foremost meditation masters, the late Most Venerable Matara Sri Ñānārāma Mahā Thera.  Their discussion was dictated by a topic, mutually appreciated by them both – the urgent need for a realisation of nibbāna in this life itself!
It is documented that the Venerable Mahā Thera, at the conclusion of their discussion, with great determination, joy and commitment in his heart, declared to Asoka Weeraratna that his quest for spiritual liberation could commence from the next day forward.  In a moment of great spiritual jubilation, the first of Asoka Weeraratna's spiritual challenges was fulfilled.
To fulfill his second wish to find a suitable place, Asoka Weeraratna underwent many hardships.  Both together with his teacher and also on his own, he travelled to many remote and rural parts of Sri Lanka, covering a period of nearly six months, enduring whatever suffering that he encountered. He went virtually from one end of the country to the other, to find an ideal site.
His journey ended when he came across the Mitirigala forest reserve, then known more specifically as 'Mitirigala Mukalana' in the District of Dompe and situated about 30 miles from Colombo, the perfect place for solitude and stilling of the mind. Both picturesque and practical for the life of a yogi, the Mitirigala forest reserve met with similar approval by the late Venerable Mahā Thera.
In 1964, Asoka Weeraratna initially acquired 120 acres and subsequently about 380 acres altogether totaling nearly 500 acres of the forest reserve from the Government of Sri Lanka on a long term, 99 year old lease agreement.
On 13 July 1967, Venerable Ñānārāma Mahā Thera arrived at Mitirigala Nissarana Vanaya, accompanied by a few monks to commence their residence at the hermitage.  This auspicious occasion was celebrated by a maha dāna for almost seventy monks.  The first rains retreat and the meditation program commenced on 22 July 1967.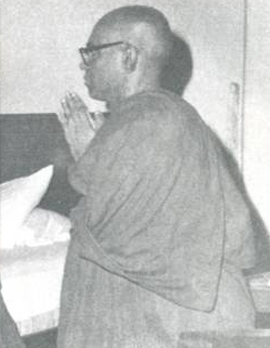 On 22 August 1972, Asoka Weeraratna was ordained as a resident monk at Mitirigala  Nissarana Vanaya under the name, Mitirigala Dhammanisanthi Thero.
Venerable Mitirigala Dhammanisanthi Maha Thero spent the next twenty seven years at the forest hermitage, undertaking meditation training and practice under the guidance of the Chief Kammatthanacariya and Chief Preceptor, the late Venerable Ñānārāma Mahā Thera.  On 2 July 1999, Venerable Dhammanisanthi  Maha Thero passed away peacefully at the age of eighty years.
Being an ascetic monk he left detailed instructions that his funeral should be one which reflects the triple aspects of anicca, dukkha and anatta, underpinning Buddhist philosophy.  Fulfilling his wish, the funeral was marked with austerity and simplicity and on 3 July 1999, the day following his death, his remains were cremated at the Kanatte amidst cries of "Buduweva" "Buduweva" from a small crowd of faithful mourners.  Also present were a group of solemn monks from Mitirigala Nissarana Vanaya Āranya, standing in appreciation and remembrance of his pioneering efforts to establish a monastery for dedicated practice in the strict forest tradition.