Mitirigala Nissarana Vanaya offers a variety of opportunities for yogis to deepen understanding of the dhamma and to cultivate and develop one's meditation practice in the Theravadha Buddhist tradition. Opportunities to stay and practice are available for visitors who are interested but new to the practice as well as for those with experience in meditation.
Male yogis can stay at the monastery upon receiving prior permission for a period of two weeks. Female yogis can only stay at the Retreat Centre during retreat times.
Keeping with the Buddhist tradition, Nissarana Vanaya has operated on the principle of generosity since its inception. There is no charge for staying at the monastery or the Retreat Centre.
Voluntary donations assist with operational costs and development work, which are substantial.
Male yogis wishing to stay at the monastery can apply by writing to the monastery. It is not possible to make bookings by telephone or fax. During the stay, yogis are expected to observe the Eight Precepts, abide by the rules of the monastery and to participate in monastery activities. For further information on staying at the monastery please review Staying at the Monastery.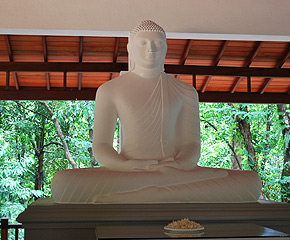 The Retreat Centre is located at the foothills of the monastery and is run separately with its own accommodation facilities and meditation hall. Meditation retreats are organized at the Retreat Centre throughout the year and are open for both male and female yogis. Details on retreats are available under the Retreats.