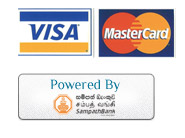 Credit Card donations are payable through the Sampath Bank International Secure Payment Gateway.
Please CLICK HERE for the data capture screen and include details such as name, address, donation amount, currency and email address. Official receipts will be issued based on the information provided.
Click on "Continue" for the Sampath Bank Payeasy screen available through the Sampath Bank site and provide credit card details. Mitirigala Nissarana Vanaya does not have access to the donor's credit card number as the details will be entered directly onto a Sampath Bank site and will be kept in strict confidence by the Bank.
Please retain your transaction number to inquire whether the transaction has been successful or has failed. In the event that a receipt is not issued within a reasonable time, please email us, quoting the transaction number to  treasurer@nissarana.lk.
Donations can also be made using Visa/ Mastercard Debit and Credit Cards provided that they are authorised by the issuer for international transactions.