If you are committed to attending a retreat, you can apply by following the instructions on this page.
To apply, complete the on-line application form or submit a completed form, available in both word and PDF formats, by emailing the form to: nissaranavanaya.office@gmail.com; or the retreat organizers. Alternatively, you can hand it over to the front office of the Retreat Centre.
Information given on the on-line booking form will be used in confidence, only by the Retreat Centre managers and administrators. You will be sent information relating to the retreat for which you have booked. Visit the other links on-line for details on accommodation, style of practice, useful resources and Frequently Asked Questions (FAQs).
Retreats fill out very fast and it is possible that you are placed on a waiting list. Once on the waiting list, you will be contacted by email and offered a place when a place becomes available.
If you no longer wish to be on the waiting list or know that you will not be able to attend the whole retreat if offered a place, please let us know as soon as possible.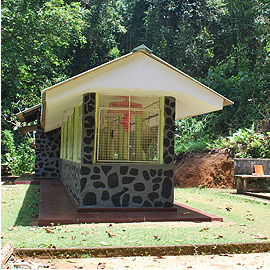 If you have any queries concerning bookings, confirmation, waiting lists or the retreat itself, please contact: nissaranavanaya.office@gmail.com or the retreat organisers.